Stainless steel hex head cap screws (hex head bolts)
Stainless steel hex bolts

Material: SUS316 (A4), SUS 304 (A2).

Standard: DIN931/933, ANSI B 18.2.1, ISO, JIS B etc


Hex head cap screws (six sided heads) is the industry standard of fasteners, wellbolt can supply SUS304,SUS316,410 etc stainless steel hex cap screws (hex bolts), size from 3mm to 100mm ( 3/16"-4"), max length can be 2500mm (8').

Standard: DIN931, DIN933, DIN558, DIN601, ANSI B18.2.1, UNI 5739, JIS B 1180, ISO 4014, ISO 4016, EN 3006, EN 3007, EN 3008, EN 3009 , BS 1769, ANSI B 18.6.3, AS / NZS 2465 etc.



ASME B 18.2.1 - 2010 Hex Bolts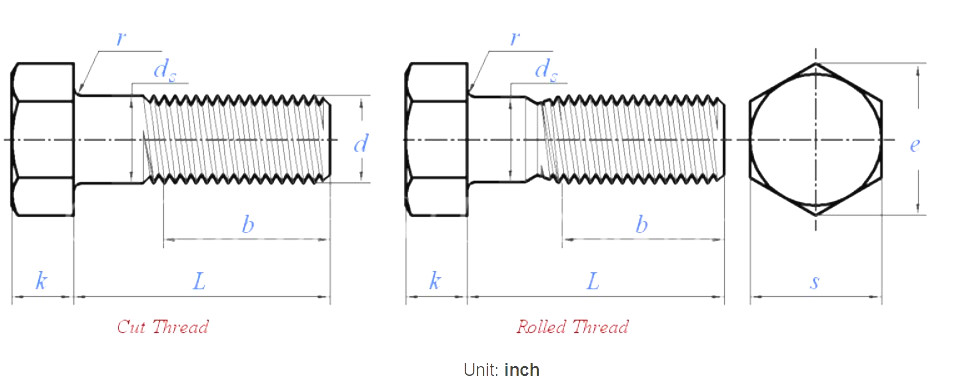 Screw Thread

1/4"

5/16"

3/8"

7/16"

1/2"

5/8"

3/4"

7/8"

1"

1-1/8"

1-1/4"

1-3/8"

1-1/2"

d

d

s

max

0.26

0.324

0.388

0.452

0.515

0.642

0.768

0.895

1.022

1.149

1.277

1.404

1.531

min

0.237

0.298

0.36

0.421

0.482

0.605

0.729

0.852

0.976

1.098

1.223

1.345

1.47

s

Basic

7/16"

1/2"

9/16"

5/8"

3/4"

15/16"

1-1/8"

1-5/16"

1-1/2"

1-11/16"

1-7/8"

2-1/16"

2-1/4"

max

0.438

0.5

0.562

0.625

0.75

0.938

1.125

1.312

1.5

1.688

1.875

2.062

2.25

min

0.425

0.484

0.544

0.603

0.725

0.906

1.088

1.269

1.45

1.631

1.812

1.994

2.175

e

max

0.505

0.577

0.65

0.722

0.866

1.083

1.299

1.516

1.732

1.949

2.165

2.382

2.598

min

0.484

0.552

0.62

0.687

0.826

1.033

1.24

1.447

1.653

1.859

2.066

2.273

2.48

k

Basic

11/64

7/32

1/4"

19/64

11/32

27/64

1/2"

37/64

43/64

3/4"

27/32

29/32

1

max

0.188

0.235

0.268

0.316

0.364

0.444

0.524

0.604

0.7

0.78

0.876

0.94

1.036

min

0.15

0.195

0.226

0.272

0.302

0.378

0.455

0.531

0.591

0.658

0.749

0.81

0.902

r

max

0.03

0.03

0.03

0.03

0.03

0.06

0.06

0.06

0.09

0.09

0.09

0.09

0.09

min

0.01

0.01

0.01

0.01

0.01

0.02

0.02

0.02

0.03

0.03

0.03

0.03

0.03

b

L≤6

0.75

0.875

1

1.125

1.25

1.5

1.75

2

2.25

2.5

2.75

3

3.25

L

>

6

1

1.125

1.25

1.375

1.5

1.75

2

2.25

2.5

2.75

3

3.25

3.5
DIN 931 (-1) - 1987 Hexagon head bolts grades A and B partially threaded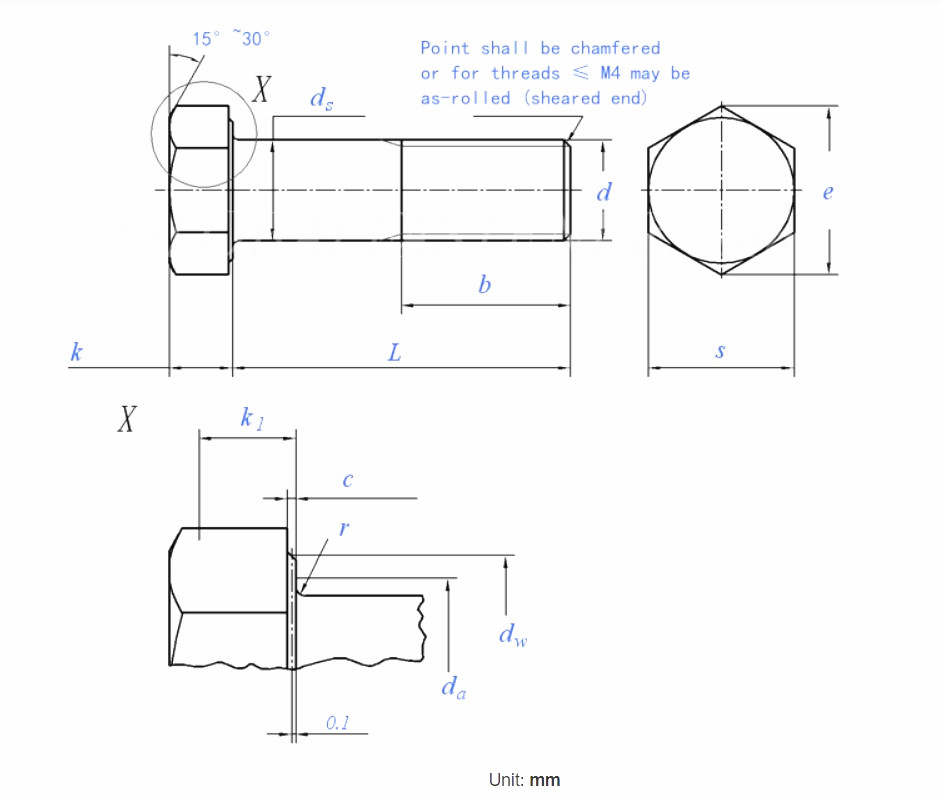 Screw Thread
M1.6
M2
M2.5
M3
(M3.5)
M4
M5
M6
(M7)
M8
M10
d
P
Thread Pitch
0.35
0.4
0.45
0.5
0.6
0.7
0.8
1
1
1.25
1.5
b
L≤125
9
10
11
12
13
14
16
18
20
22
26
125<L≤200
-
-
-
-
-
-
22
24
26
28
32
L>200
-
-
-
-
-
-
-
-
-
-
45
c
min
0.1
0.1
0.1
0.15
0.15
0.15
0.15
0.15
0.15
0.15
0.15
max
0.25
0.25
0.25
0.4
0.4
0.4
0.5
0.5
0.5
0.6
0.6
d

a

max
2
2.6
3.1
3.6
4.1
4.7
5.7
6.8
7.8
9.2
11.2
d

s

max=nominal size
1.6
2
2.5
3
3.5
4
5
6
7
8
10
Grade A
min
1.46
1.86
2.36
2.86
3.32
3.82
4.82
5.82
6.78
7.78
9.78
Grade B
min
-
-
-
-
-
-
-
-
-
-
-
d

w

Grade A
min
2.4
3.2
4.1
4.6
5.1
5.9
6.9
8.9
9.8
11.6
15.6
Grade B
min
-
-
-
-
-
-
-
-
-
-
-
e
Grade A
min
3.41
4.32
5.45
6.01
6.58
7.66
8.79
11.05
12.12
14.38
18.9
Grade B
min
-
-
-
-
-
-
-
-
-
-
-
k
Nominal Size
1.1
1.4
1.7
2
2.4
2.8
3.5
4
4.8
5.3
6.4
Grade A
min
0.98
1.28
1.58
1.88
2.28
2.68
3.35
3.85
4.65
5.15
6.22
max
1.22
1.52
1.82
2.12
2.52
2.92
3.65
4.15
4.95
5.45
6.58
Grade B
min
-
-
-
-
-
-
-
-
-
-
-
max
-
-
-
-
-
-
-
-
-
-
-
k

1

min
0.7
0.9
1.1
1.3
1.6
1.9
2.28
2.63
3.19
3.54
4.28
r
min
0.1
0.1
0.1
0.1
0.1
0.2
0.2
0.25
0.25
0.4
0.4
s
max=nominal size
3.2
4
5
5.5
6
7
8
10
11
13
17
Grade A
min
3.02
3.82
4.82
5.32
5.82
6.78
7.78
9.78
10.73
12.73
16.73
Grade B
min
-
-
-
-
-
-
-
-
-
-
-
Screw Thread
(M14)
M16
(M18)
M20
(M22)
M24
(M27)
M30
(M33)
M36
(M39)
d
P
Thread Pitch
2
2
2.5
2.5
2.5
3
3
3.5
3.5
4
4
b
L≤125
34
38
42
46
50
54
60
66
72
78
84
125<L≤200
40
44
48
52
56
60
66
72
78
84
90
L>200
53
57
61
65
69
73
79
85
91
97
103
c
min
0.15
0.2
0.2
0.2
0.2
0.2
0.2
0.2
0.2
0.2
0.3
max
0.6
0.8
0.8
0.8
0.8
0.8
0.8
0.8
0.8
0.8
1
d

a

max
15.7
17.7
20.2
22.4
24.4
26.4
30.4
33.4
36.4
39.4
42.4
d

s

max=nominal size
14
16
18
20
22
24
27
30
33
36
39
Grade A
min
13.73
15.73
17.73
19.67
21.67
23.67
-
-
-
-
-
Grade B
min
-
15.57
17.57
19.48
21.48
23.48
26.48
29.48
32.38
35.38
38.38
d

w

Grade A
min
20.5
22.6
25.3
28.2
30
33.6
-
-
-
-
-
Grade B
min
-
22
24.8
27.7
29.5
33.2
38
42.7
46.6
51.1
55.9
e
Grade A
min
24.49
26.75
30.14
33.53
35.72
39.98
-
-
-
-
-
Grade B
min
-
26.17
29.56
32.95
35.03
39.55
45.2
50.85
55.37
60.79
66.44
k
Nominal Size
8.8
10
11.5
12.5
14
15
17
18.7
21
22.5
25
Grade A
min
8.62
9.82
11.28
12.28
13.78
14.78
-
-
-
-
-
max
8.98
10.18
11.72
12.72
14.22
15.22
-
-
-
-
-
Grade B
min
-
9.71
11.15
12.15
13.65
14.65
16.65
18.28
20.58
22.08
24.58
max
-
10.29
11.85
12.85
14.35
15.35
17.35
19.12
21.42
22.92
25.42
k

1

min
5.96
6.8
7.8
8.5
9.6
10.3
11.7
12.8
14.4
15.5
17.2
r
min
0.6
0.6
0.6
0.8
0.8
0.8
1
1
1
1
1
s
max=nominal size
22
24
27
30
32
36
41
46
50
55
60
Grade A
min
21.67
23.67
26.67
29.67
31.61
35.38
-
-
-
-
-
Grade B
min
-
23.16
26.16
29.16
31
35
40
45
49
53.8
58.8
Contact Us
Name: Ms Rachel Wu
Tel: 86-573-86087481
Fax: 86-573-86087482
E-mail: [email protected]
Skype: vividping
Add: No 403, Jinhui, Yanbei Est Rd, Wuyuan, Haiyan, Jiaxing, Zhejiang, China